Introduction
Terms and conditions
Terms and conditions

This website is owned by Tengen Bearing (Shanghai) Co., Ltd. (hereinafter collectively referred to as ¡°Tengen¡±). By accessing and using this website created by Tengen, you agree the following terms and conditions:
Warranty Disclaimer and Limitation of Liability
Tengen has made every effort to ensure the correctness and accuracy of the information published in this website, and disclaims all warranties, expressed or implied, including, but not limited to, implied warranties of merchantability. You acknowledge that you agree to use any information Tengen made available to this website solely at your own risk. You agree to bound full responsibility of all associated costs of using this website, Tengen shall not be liable for any direct, incidental, consequential, or indirect damages of all kind arising out of your access and use of any information that Tengen made available to this website.
Usage of the Website
You may not intentionally make use of this website or any information of this website, to perform or encourage any kind of activities that would be considered as a criminal offence. You agree that you will not upload, post or use any computer programs that contain viruses or other harmful spywares. Tengen emphasis in comply with all applicable local, state, national or international laws, Tengen reserves the rights to enforce any applicable legal actions to anyone who may have made use the contents of this website illegitimately.
Changes
Tengen reserves the rights to change or add additions of any information to this website without any prior notice.
| | |
| --- | --- |
| Download General Catalogue | |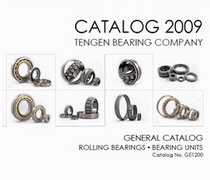 General Catalogue
After months of researches and data collection, we are glad to publish the GE1200 General Catalogue of Rolling Bearings. Please get a copy from the Download Center.
¡¡
We recommend you to visit at below recommended Links...
Quality of Chinese Bearings
Read on how Chinese Bearings are classified into different grades and qualities, how its' quality different one another...
A Closer Look at Tengen
Come have a closer look at our Operation Office at Shanghai.
Introduction Video
Watch our 33 seconds length of Brief Introduction Video.
Manufacturers & Resellers
A comprehensive article that highlights the advantages of buying and dealing with a Trading Company in China, instead of a manufacturer.